In the midst of the COVID pandemic, retail changed in a fortnight. Extra safety precautions, panic buying, fights over the last toilet paper rolls and understaffed stores – this is the new grocer reality!
In these difficult times retailers are turning to AI solutions to support operational continuity. Here are 5 tips how AI video analytics can support your retail operations in these difficult times.
1.Self-checkout systems
AI powered self-checkout platforms can reduce checkout time and minimize human contact. During the crisis even conservative clients prefer self-checkout. Self-checkout reduces customer queues and improves overall customer service. Most importantly it helps to provide fluent customer service by minimizing personal contact.
Smart AI self-checkout systems can identify items by object recognition. Such platforms make transactions smoother and minimizes the risk of miss-scanning. In addition, self-checkout locations require less human security oversight, as this is performed by AI video analytics.
In situations like COVID-19, self-checkout systems helps customers and employees to avoid human contact and ensures fluent customer service in retail places.
2.Queue management
AI queue management software can assist in managing customer flow and employee shift scheduling. In-store camera footage is processed by video analytics. Key metrics such as peak visiting hours, queue sizes, average waiting time and customer checkout times are taken into account. This information can be filtered out by location, working hours, longest waiting times.
Based on this information retailers may forecast customer flow and distribute the work force accordingly. The platform not only monitors queues in real time, but provides forecasts in 5-15 intervals before the queues even form. During the times of 'skeleton' retail operations, AI queue management can dramatically improve operations and increase customer safety.
3.Always in stock shelf monitoring
Panic buying, staff shortages and disruption in the supply chain made timely shelf restocking complicated. Due to the COVID outbreak retail outlets became understaffed, overcrowded and undersupplied.
Retailers are employing AI shelf monitoring software to optimize restocking efficiency and make most of the staff resources available on hand. The software monitors product stock levels on a particular shelf and can notify employees when the supply is about to run out.
Shelf monitoring helps to maintain optimal stock levels through the day and ensures customer satisfaction.
4.Store visitor analytics
During quarantine many governments enforced maximum store visitor limits. AI store visitor analytics solutions help retailers to estimate visitor footfall. In addition, software measures time spent at a particular store section identifying "hot-spots" and "cold-spots". Using video metrics retailers can monitor customers flow throughout the day and ensure safer operations.
5.Personal Protective Equipment Monitoring
AI video analytics already helps to ensure safety on construction sites by monitoring PPE usage. The software recognizes hardhats, protective eyewear, gloves, facemasks and other equipment. This solution reports on PPE policy violations in real time. Coronavirus situation leads to new regulations for public facing employees. PPE management platform enables retailers to add a wide variety of PPE which they employ in operations. These items are then automatically identified by the system.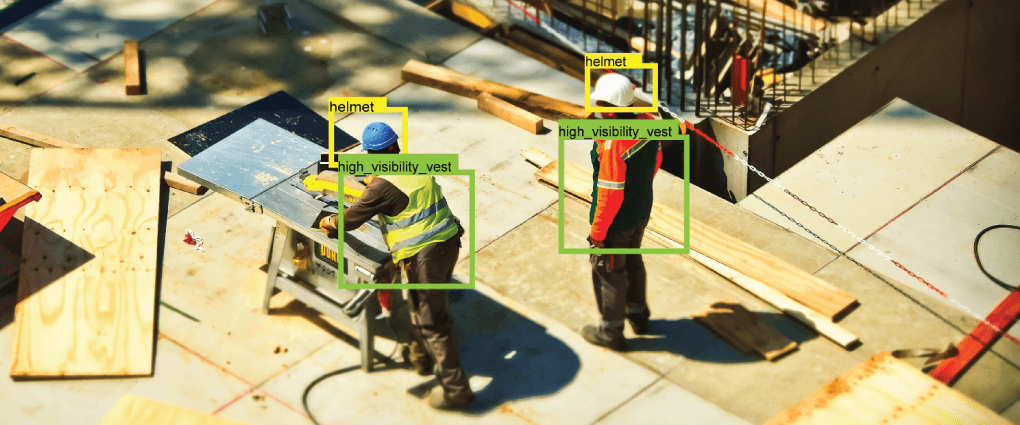 As face masks and other protection gear is now a must during the outbreak, AI helps to ensure that all safety precautions are met.
Road to digital retail transformation
The COVID outbreak is driving digital transformation in many organizations. Crisis calls for retailers to make the digital shift sooner rather than later. The usage of AI retail video analytics will only increase in the future.
Computer vision powered AI video analytics solutions make use of the video surveillance infrastructure already present at the stores. Cloud deployment allows such services to be launched in no time.
If you need support during the crisis, EasyFlow is offering AI video analytics suite services for free to retail organizations.