In my 20+ years in retail I learned one thing: retail loves precision! Retail managers are obsessed with key metrics: sales per square foot, average transaction value, year on year sales and many more to evaluate your store performance.
However, there is a key problem with this approach – the tracking is done on the store level.
Sure, you can compare performance with other stores. But it gives little insight on what needs to be changed to improve performance.
Enter the world of retail video analytics
Fast-moving consumer goods are rightly named – they indeed move fast! Perishables such as dairy, meat, baked products fly from the shelves. If you run a price reduction campaign, you find the shelf running empty in no time. There is no problem to optimize the logistic and supply on the store level. But the industry has a very limited understanding of what happens on the store shelf.
Most shelf monitoring is still done manually. Employees do rounds around the store and notify when shelf restocking is required. Sounds simple in theory. But in practice, even with the best business processes you find that shelves are sitting empty during peak shopping hours. How much sales is lost when product is sitting in the warehouse, but not on the shelf?
Actually, nobody knows! But now there is an easy way to find out.
Computer vision powered retail analytics software can monitor product levels on a particular shelf. The analytics software utilizes video cameras and requires little to no investment in additional hardware. Shelf monitoring software can then notify store employees that for instance only 20% of the stock is left on a shelf giving enough time to restock it before the supply will run out ("More milk to isle five!").
Introducing automated shelf monitoring and restocking processes will have a profound effect on the store performance.
1.Retail shelf analytics will boost your store sales
Product availability has a direct effect on monthly sales, revenue per square foot and transaction value. When you start running retail shelf analytics, you actually understand that all the KPIs retail industry is so obsessed with are actually derivatives.
Understanding the performance on a shelf level enables more granularity and provides business insights to extract extra sales. From my experience, better shelve stock management will boost grocery sales by 3-15%, depending on the size of your store.
2.Retail shelf analytics will allow better management of 'special offer' campaigns
Fast-moving consumer goods move fast. But they move even faster, when you are running price reduction campaigns. With retail shelf analytics, you may monitor only special shelves dedicated to sell-out campaigns and prioritize their restocking.
In addition, you may provide your suppliers with reports about their product and brand visibility, complemented with detailed availability analysis.
3.Retail shelf analytics will provide insights into value lost when product is out of stock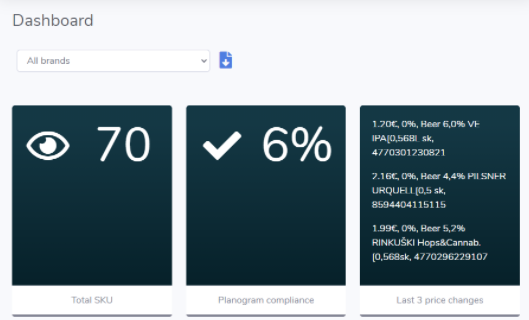 Retail shelf analytics can monitor stock levels and provide notifications when restocking is required. However, it is still up to employees to restock them in timely fashion.
Retail shelf analytics software can provide additional metrics of how long the shelve was sitting empty, what is the average time of restocking, also predict when a particular shelve will run out of products and many more insights.
This data can then be correlated with store sales performance data and establish the exact number for sales lost.
4.Retail shelf analytics can also monitor price labels
In addition to restocking, store manager has to also ensure that the price tags for products match the ones in retail execution software.
After introducing a price reduction campaign, the price labels have to be manually changed. Retail shelf analytics software can match the product to the price assigned in the retail execution software and notify about the discrepancies.
Plus, you may assure your suppliers with hard data how their product and promotional material was displayed.
5. Retail shelf analytics will improve customer satisfaction
When shelve restocking is optimized, prices match the product – a no brainer – the shopper experience will improve.
In addition, you may utilize Computer Vision software for better store layout planning, check-out queue management, theft prevention – by utilizing video surveillance cameras already installed on your store floor.
Want to improve your store efficiency? Contact us for a free consultation: